Poissy (France); IV.2000; pict. A. Guët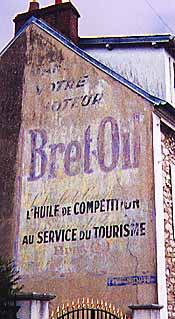 DANS VOTRE MOTEUR
Bret-Oil
L'HUILE DE COMPETITION
AU SERVICE DU TOURISME
Not an example of excellent typography (take f.e. the italized uppercase DANS VOTRE MOTEUR) but I have seen worse. And they improved since earlier versions of the announcement. Look closely and discover the older layer written in
script-type
with the brand at the bottom in a far too modest weight.
In stressing the fact that they come down from a high-tech and exigent environment, they are selling their brand with the same approach as Frigéavia (home appliances), Renault (oil), and Yacco (oil).
Gdansk (Poland); IX.1999; pict. A. Anselin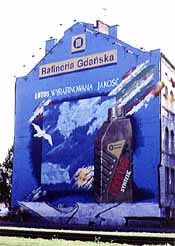 Rafineria Gdanska
LOTOS Wyrafinowana Jakosc
LOTOS syntetic
If it is man-made stuff then never forget to evocate nature. Or does the scene means 'space, escape, freedom, no limits' or maybe 'individualism'? A very nice painting, but the message is not unequivocal. They should stick with Your car loves LOTOS or something.