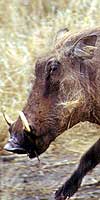 Mice are extremely versatile. A bottle of beer, a printer, a bank account, a scanner, a spread-sheet, human resource management, you name it, most likely has something in common with a mouse.
Penguins are so cute, so human, so funny. But that's clearly not good enough to make a good messenger. Most advertisements stick to take-away allusions about ice, cold and dress-code.
Pigs usually mean money and a rosy future. Hog writers stay bottom level with ordinary allusions. But surprisingly enough pigs and family are also often used to indicate quality! Be it indirectly, but still.