The typeface makes it difficult to read this panel; the message is probably only meant for pedestrians.

Everything possible has been done to make this piece of advice firmly root in our brains. The person (left) is a nurse or a nun: back in time both were trustworthy examples. She raises the glass suggesting a happy social occasion. It is also an act of trust, even faith in the power of Carvalhelhos.

The message is strengthened and its target widened by the person on the right. Carvalhelhos is not only for sick people, women or children, but also for strong men (look at his chin). Finally, even the most crusted non-believer must fall for the health-radiating intestines.

Mertola (Alentejo, Portugal), IV.1998; pict. A. Guët
The water from Carvalhelhos is known for more than 150 years. The commercial exploitation started with a con­cession dated August 1915. It was not easy to get the bottles to market (first with porters, then carts and finaly by train).
A new company
Caldas Santas de Carvalhelhos
was born in 1948. It took until 1961, when more electricity became available, before the company could grow to one of the most modern in Europe today. (based on the
Carvalhelhos website
in portuguese; the nun is still present;
latest check: 20.II.2020
)
St Jeoire Prieuré (N6, France);
II.2001; pict. M. Chartier
Perpignan (66, France);
VII.2002; pict. A. Guët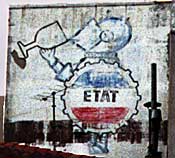 ETAT
A very patriotic painting. The guy wears an armour suit and his shield features the French national colours. Notice how he manages to drink without clipping his mask away! The shield emulates a crown-cork.
We've seen the same colour choice on a crown cork with Pepsi-Cola. I wonder if that caused any friction back then.
Port de Piles (France);
01.XI.1996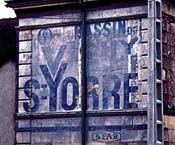 Bassin de Vichy St-Yorre
.
In the upper left corner: the fountain symbol for a spa.
It was about 1850 when
Vichy
on the first labels. This was not received very well and it was only after several years of conflict that in 1862 he was allowed to carry
Bassin de Vichy
.
Notice the yellow hexagon with SFAR. S.F.A.R. stands for Société Française d'Affichage Routier.
, pharmacist in Saint-Yorre situated just South from Vichy, noticed the peculiar qualities of the springs on his property. He got permission to commercialize the water and took the liberty to mention
During the first decades of the 20th century many small companies drilled their own wells but gradually merged together into one Société Commerciale du Bassin de Vichy.
Based on the brand's website at www.st-yorre.com (in French). I can't link because their page with Informations légales states that a permission in writing is required before any such attempt! (latest check IV.2016)
St Gaudens (France);
VII.1999; pict. A. Guët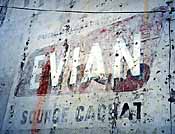 Do you see who is peeping from behind the
EVIAN
? It's the
Rasurel atlete
.
Pierre-Buffière (Limousin, France);
VIII.2004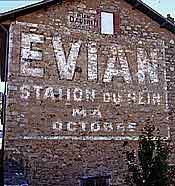 EVIAN
Spa for the kidney
May October
Rein = kidney; could also mean strength
Aguessac (D907,France);
VIII.2000; pict. M. Chartier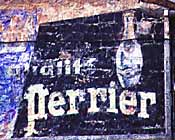 qualité Perrier
The P has a most peculiar shape.
Antananarivo (Madagascar); XII.2003;
pict. M. Chartier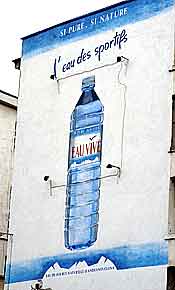 Si pure, si nature
L'eau des sportifs
Eau Vive
Eau de source naturelle d'Andranovelona
Eau Vive is a brand of Brasserie STAR.
We have seen STAR — Société Tananarivienne d'Articles Réfrigérés — also in our Beer section with Three Horses Beer and Castel and in the soft drinks section with Coca Cola.
Haywards 5000 — Super Strong Soda
This is an example of what are called surrogate advertisements. The advert very closely mimics murals for Haywards 5000 Super Strong Beer and in this way the beer brand tries to compensate for the ban of adverts for alcoholic drinks. The soda brand does exist but it was clearly created with the purpose to encourage consumption of a product whose promos were prohibited by law.
The Haywards beer was launched in the 1970s and it became an AB Inbev brand in 2016 when SABMiller was acquired.