Lembras (N21, France), 11.VI.2000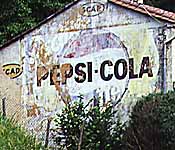 Pepsi-Cola painted on top of a Pschitt Perrier ad. Find traces of Perrier bottles above the 'LA' and under the 'PE'
Ste Bazeille (N113, France); VII.2000;
pict. M. Chartier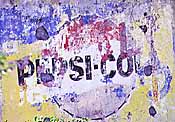 Notice how the tricoloured circle is in fact a crown-cork with notches. The more recent ads show just a flat circle segment.
St Pourçain (N9, 03 France); XI.2000;
pict. T. Dubois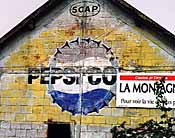 Vichy État
used a similar crown cork for the shield of an armoured fighter.
Ambositra (Madagascar), 21.X.2012; pict. H. De Meyer

De l'énergie à boire ...
Dynamic
— Boison Energisante
The can features the name of the company LOTTE. Lotte Chilsung Beverage Company was first founded in 1950 under the name Dongbang Beverage Company. The name was changed in 1974. The company is based in South-Korea and has partnerships with several other beverage companies.
Tunesia, VIII.2002; pict. M. Chartier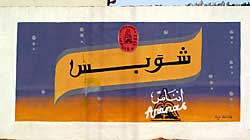 The father of Schweppe(')s is Jean Jacob Schweppe. Born in Germany and living in Geneva he experimented in making sparkling water after the natural mineral waters from spas. Eventually, he succeeded and in 1783 (see detail) a company was founded.

In 1969 Schweppes Ltd merges with Cadbury Group Ltd to form Cadbury Schweppes plc. The brand, together with f.e. Orangina and La Casera, is in Japanese hands since the end of 2009.