Golden Kenia, Delirium tremens and Export: three beers by Brewery Huyghe in Melle (Belgium).
All three pictures at the entrance of the plant (October 1998).
Brugge (Belgium); VII.1998
Kortemark (Belgium); III.1998
Gueuze Belle-Vue
with escutcheon bearing the initials of the brewery
AKILA is a quality beer since 1877.
At the time of writing still available in the local shops.
Lokeren (Belgium), X.1998
Westport (Ireland), VIII.2000;
pict. M. Chartier
WHITBREAD
The house of Whitbread 1740
Northern France; 02.XI.1990
Jette (Belgium); XI.2000;
pict. H. De Meyer
Mesnil-Raoul (France); III.2001;
pict. M. Chartier
Bières MONS

The star radiates quality.

Ginder Ale

The beer was first made in 1928 by the brewery Van Ginderachter.

Paillette

The strange creature sitting on the 'P' is supposed to be a bird, but I don't find the drawing very convincing.

Madagascar; 23.X.2012; pict. H. De Meyer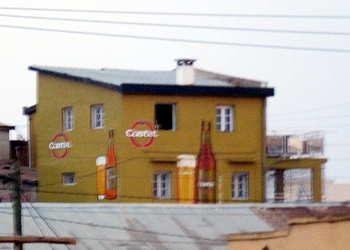 Castel Beer is named after the Castel Group: a French company founded in Bordeaux in 1949 by 9 members of the same family. Castel is one of the major players in beer and soft drinks in (French speaking) Africa.
More information at the websites of the Castel Group and the Brasseries du Cameroun (French). Castel owns also Nicolas a chain of shops selling wine.