Mills in Alto Aragón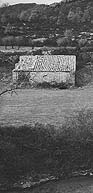 La cuenca del Ara - Aula Itinerante / Ruta práctica
(Coord.) - 1985 -
Colectivo Pirineos
(Departamento de Cultura y Educación Diputación general de Aragón)
ISBN: 84-505-2004-5
El Batán de Lacort
- 1998 -
Prames, S.A., 50007 Zaragoza
and
Diputación general de Aragón (Departamento de Cultura y Educación; Departamento de Ordenación Territorial, Obras Públicas y Transportes)
ISBN: 84-8321-029-0
Meules à grains
- 2003 -
Actes du colloque international La Ferté-sous-Jouarre 16-22 mai 2002
Ibis Press, Paris - ISBN: 2-910728-35-8
Maison des Sciences de l'Homme, Paris - ISBN: 2-7351-0996-8
Proceedings of the international colloquium in 2002. Most interesting with summaries in English and German. 470pp.
Molino hidráulicos: los antiguos molinos del Río Sosa
- 2018 -
Monzón; Cuadernos del CEHIMO N°44; pp. 249-293; ISSN: 1133-3790
La Solana - Vida cotidiana en un valle altoaragonés
- 1999 -
ISBN 84-605-8764-9
van zAdelsteen tot Zetelkruier - 2000 jaar molens in Vlaanderen.
- 1998, 2000 -
Volume I (1998): Geschiedenis (288pp.)
Volume II (2000): Bouw en werking van de molens met natuurlijke drijfkracht (367pp.)
Ed. Prov. Oost-Vlaanderen - Gent - Belgium
Splendid work about the history, construction, significance of water- and wind-mills in Flanders. Bauters explains how many mill-historians are ignorant about the evolution in Flanders because they can't understand Dutch. But - surprise! - the book is written in Dutch without any summary in any other language.
La Pierre à pain
Les carrières de meules de moulins en France du Moyen Âge à la révolution industrielle.
- 2006 -
Two volumes
Presses universitaires de Grenoble - www.pug.fr
ISBN: 2-7061-1305-7
Maestros del agua
- 1999 -
Diputación general de Aragón (Departamento de Educación y Cultura)
ISBN: 84-7753-780-1
Obras Hidráulicas en Aragón
- 1999 -
Caja de Ahorros de la Inmaculada de Aragón
ISBN: 84-95306-17-4
Recorridos por la Historia de las Energías Renovables en Aragón
17 itinerarios para descubrir en bici, a pie o en coche.
- 2000 -
Gobierno de Aragón
Departamento de Industria, Comercio y Desarrollo
Dirección General de Energía y Minas
ISBN: 84-7753-835-2
Travailler au moulin / Werken met molens
(Coord.) - 1996 -
ARAM Nord/Pas-de-Calais and Werkgroep West-Vlaamse Molens v.z.w.
ISBN: 2-9501-6552-4
Excellent explanation of the working of a mill with numerous drawings and photographs.
Lecina, un pueblo con historia y encanto
- 1996 -
Huesca ISBN: 48-921756-0-5
Los Molinos: cultura y tecnología
- 1989 -
Madrid: Instituto de Conservación y Restauración de Bienes Culturales
ISBN: 84-404-4553-9

Reinventing the watermill in the Himalayas:
the Gharat in history, tradition and modern development.
- 2008 -
Northern Book Centre, New Delhi
ISBN: 81-7211-248-3
Miradas desde Tella
- 2003 -
Ayuntamiento Tella-Sín, E-22336 Lafortunada (Huesca)
ISBN: 84-88518-61-7
El Monte des Oliviers
- 1993 - Sierra de Guara,
Pyrénées-Magazine N° 30, XI-XII.1993, p 60-69
Ed. Milan Presse - Toulouse, France
Article (in French) about olives: harvest and production of oil.
The horizontal watermill - History and Technique of the First Prime Mover
- 1994 -
Bibliotheca Molinologica, volume 12, ISSN 1021-5581
Sprang Capelle: The International Molinological Society
Los Molinos del Altoaragón
- 1994 -
Instituto de Estudios Altoaragoneses (Diputación de Huesca)
ISBN: 84-8127-013-X
En busca de La Ferté.
Un viaje por el patrimonio industrial y minero abandonado de Teruel.
et al. - 2021 -
Recartografías — ISBN: 978-84-09-29442-8
Analysis of the abandoned industrial and mining heritage in the province of Teruel. In this work, 384 heritage elements are analyzed throughout the province and their history, functionalities and state of conservation are reconstructed. The work is accompanied by more than 300 photographs and numerous maps, sketches, tables and diagrams. In Spanish.
El Valle de Vió estudio etnográfico-lingüístico de un valle altoargonés
- 1996 -
Federación Aragonesa de Montañismo - Prames S.A., Zaragoza
ISBN: 84-87601-64-2
Translation (ed. J. L. Acín Fanlo) of the German study carried out in the 1930's.
Covers, among many interesting topics, the mills of Sercué, Lacort and Boltaña.
Patrimonio industrial harinero: blog
harineras.blogspot.com
Blog about (industrial) flour mills world-wide, but mainly Spain and Spanish speaking regions; news about conservation efforts; industrial archaeology. In Spanish. Seems to be asleep since 2021.
Asociación para la Conservación y Estudio de los Molinos
http://www.molinosacem.com/
Society for the study of anything related to mills. An on-line database is in preparation since a long time. In Spanish.
The International Molinological Society (TIMS)
www.molinology.org
TIMS (founded in 1973) is a Society which fosters worldwide interest and understanding of wind, water and animal-driven mills. The Society encourages research, and promotes all aspects of molinology including the restoration of mills. It works closely with national mill societies and organizations and also campaigns at regional and government level to encourage the preservation of important historical mills and mill-sites.
The TIMS site carries also an exhaustive list of mill related web sites.
Fédération des Moulins de France (FDMF)
www.fdmf.fr
FDMF is a non-profit organization founded in 2002 and based in La Ferté-sous-Jouarre. Principal objectives are the study, safeguarding, restoration, and regeneration of windmills, watermills, wind pumps, mills driven by muscle power (human or animal) and all the structures, machines and equipment associated with their functioning. — Huge site with plenty of information, mainly in French but some items also in English.
The Society for the Preservation of Old Mills (SPOOM)
www.spoom.org
SPOOM (a non-profit organization since 1972) is an international organization dedicated to promote interest in old mills and other Americana now quickly passing from the present scene. It acts as a clearing house on milling information among all those interested.
The Pond Lily Mill Restorations Home Page
www.angelfire.com/journal/pondlilymill/index.html
America's Leading Authority on the Restoration, Operation, Interpretation and Preservation of Historical Grist and Flour Mills.
A treasure bag with articles about history, tools, stones, preservation, you name it (even rodent control).
The Mills Archive Trust
www.millsarchive.org
The Mills Archive focuses on traditional mills and milling and the uses of natural power. We will seek and acquire relevant historical and contemporary material and small artefacts. We are particularly interested in records relating to UK mills, millers and millwrights, as well as additions to our extensive collection of European and N American material.
This charity registered in the UK aims to care for and preserve significant collections on milling and natural power; provide images to users; offer advice to collectors, promoting future deposits; build close links with existing mill archives to share information & resources.
European millstone quarries : a data base
meuliere.ish-lyon.cnrs.fr/en/welcome.htm
Implemented by the french National Centre for Scientific Researches (CNRS) and specially by the Rhone-Alps Historical Research Laboratory (LARHRA, UMR 5190), this site inventories European quarries and documentation dealing with it. The database is freely consultable on line and new data can be supplied by anyone knowing a new quarry.
Portal sites towards sites about mills
molen.startpagina.nl
(The Netherlands) and
molen.start.be
(Belgium)
Listing many sites about mills (Europe, but mainly the mentioned countries) or things related with mills (magazines, millers, companies building mills, language, etc.).
In Dutch. Doesn't seem much alive.
Sistema de Información del Patrimonio Cultural Aragonés
SIPCA.es
On-line database about, among other things, the architectural heritage of Aragón: buildings, constructions and engineering works. Entirely in Spanish. Search for
molino
.
Cazarabet
www.cazabaret.com
A collection of digital magazines about cultural and industrial patrimony
+
Cuadernos de Cazarabet
: revista de museología e iniciativas de la sociedad civil aragonesa en torno al patrimonio cultural
+
Alarifes
: Patrimonio industrial
+
la defensa
: revista aragonesa para la defensa ambiental del territorio
A

rticles published in (Labuerda, I.S.S.N.: 1130-4960)