Buxy (France), V.1999; pict. Baeten & De Dier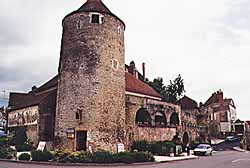 Vins de la Côte de Buxy
The top banner says:
avec les bons vins de buxy chacun chante et chacun rit
or
with the good wines from buxy, everybody is singing and laughing
Carrousel
Vins de haute race
I don't know, but this kind of statement often comes with the opposite.
Vins Carrousel
Le Chai Royal
or The Royal Wine Cellar
Paris (N7, France), June 1999; pict. A. Guët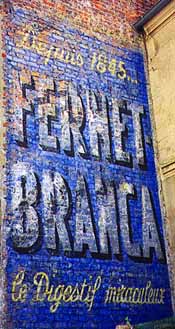 Depuis 1845
FERNET
BRANCA
le Digestif miraculeux
or
Since 1845
FERNET
BRANCA
the miracle digestif
Fernet Branca is an Italian alcohol-rich bitter with lots of herbs en spices. Back then it was rather more a panacea than a liquor. And even today lots of web pages shout the soothing properties.
Clairette de Die
Apellation Contrôlé
Cru du Die
A sparkling wine result of the age-old
Méthode Dioise Ancestrale
Buvez une AUVERGNE
Auvergne is a creation from 1928 by Émile Refouvelet. He lived in Riom ès Montagnes in the Auvergne and his concoction was based on gentian, hence the name.
The brand was renamed Avèze in the 1960s after Raphaël bought it.
read more at the brand's website : www.aveze.com (latest check: XI.2019)