Golden Kenia, Delirium tremens and Export: three beers by Brewery Huyghe in Melle (Belgium).
All three pictures at the entrance of the plant (October 1998).
Brugge (Belgium); VII.1998

Gueuze Belle-Vue
with escutcheon bearing the initials of the brewery
Kortemark (Belgium); III.1998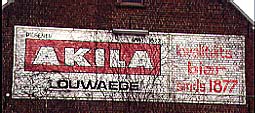 AKILA is a quality beer since 1877.
At the time of writing still available in the local shops.