Abbeville (France), V.2005;
pict. A. Guët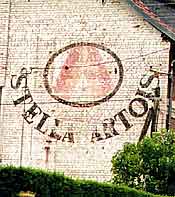 Stella Artois
The origins of the brand lay way back in time. In 1717 Sebastien Artois, master brewer since 1708, purchased brewery Den Horen existing since 1366. The company, located in Leuven (Belgium), was then given the name Artois. Stella was born as a christmas beer in 1926. Hence the name Stella = star.
Artois, after several acquisitions, mer­ged with Piedboeuf in 1987 to form Interbrew.
Read more at the brand's site at www.stella-artois.be - latest check 17.vi.2021
Copenhagen (Denmark), 03.iv.2017;
pict. A. Anselin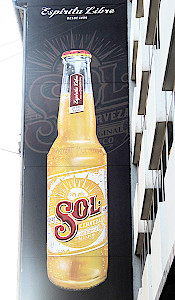 Espíritu Libre
desde 1899
Sol
Cerveceria Moctezuma
Cerveza original de Mexico
Sol
beer was in 1899 created as
El Sol
and was a beer of the which was acquired in 1912 by . The beer was renamed Sol in 1924.
Sol remained a rather localized beer until the mid 1990s when it began its expansion, first in Mexico and later internationally.
In 2010 Moctezumal was acquired by Heineken International.