RN12 (France), XI.1999; pict. A. Guët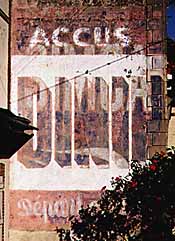 Accus (=batteries) DININ
Notice the Simca behind the Dinin.
Seen the swallow?
We have more Simca on this page.
Henri Tudor was born in Luxembourg in 1859.
Henri shows an early interest in electrical accumulators and in 1884 develops a mobile accumulator-motor combination. Industrial production of the Tudor accumulator began in 1886.
The lightning says energy.
Compare the two walls and discover how the discharge on the left mural has a yellow core with white borders while the colours on the second wall are reversed.
The red and white star is a compass card! The proof is in the N-E-S-O surrounding the star: best visible on the defaced mural.
Courneuve (RN2, 93 France), II.2001;
pict. C. Morsard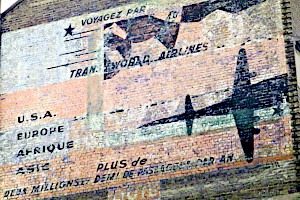 A bit difficult to interpret because of the St. Raphaël layer:
Voyagez par Trans World Airlines
Plus de deux millions et demi de passagers par an
or
Travel with Trans World Airlines
More than two million and a half passengers each year.
Odisha (India), XII.2006; pict. H. De Meyer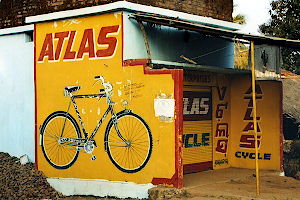 ATLAS
Atlas Cycles Ltd. was incorporated in Sonepat (Haryana) on the 31st of May in 1950. It was the dream of its founder to provide the Indian people with good bikes at reasonable prices. The company started with the production of saddles and produced bicycles from 1952 on. The humble company with an initial production capacity of 120 bikes a day has grown to a state of the art facility with a capacity of 4 million units per year. Read more at the company's website.