T
he aceitero is installed in the left (2) part of the construction. The entrance (left most on the picture) is situated away from the road. When you enter you first come into a short gangway leading to a small room lined with what I think were fodder-troughs. It's a feature that we've seen before. The
ruello
to crush the olives was turned around by a mule and this was the place where the animal could take a quick snack. But as this mill was highly motorized, the trough probably wasn't in use anymore.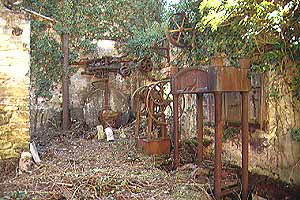 (13) Equipment of the oil mill.
T
hen you'll step into the main room of the oil mill were all activity was centralized. A row of algorínes (containers to stock the fresh olives waiting to be processed) is situated at your left hand against the road-side wall (12). The bricks betray some more recent repairs.
All the equipment is placed in a line against the opposite wall (13). In the corner in the depth is the roller crusher (14) (ruello) resting in its balsa. We have seen a similar contraption in the oil mill of Troncedo where we have also explained how it works. The cog wheels there are absent though, because the system in Troncedo was driven by energía de sangre (a mule as we call it).
The press is of a very modern make. The oldest type of press is of the cantilever type and asks for a long room and a high roof (e.g. Castilsabás, Trillo, Fumanal and Coscojuela). Other sites (e.g. Troncedo and Almazorre) feature a space saving device which is still based on a screw to force a plate down onto the heap of mats with olive-mash.