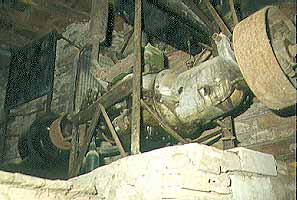 T

he door behind the trough opens to a small room with switches and insulators of the power station. Some narrow stairs are leading down into the level where the generator was located. The picture shows (from right to left) first a diesel engine (removed between 1998 and 2004), then the much smaller alternator and lastly an empty black switch panel.

A map from the 1950s has the mill labeled Molino de aceite and Fábrica de Luz and power lines are drawn towards Centenera, the houses of Fantova next to the Castle, La Puebla de Fantova and the isolated houses of Rabinaco. That is quite something. Even more if we look at the specs of the dynamo.
| | | | |
| --- | --- | --- | --- |
| N° | 12337 | Volts | 30 |
| KW | 0.300 | Amps | 10 |
| HP. | -- | Rews | 1000 |
One hair-drier could have put the region in the dark. Those were the days before the fancy power-hungry home-appliances of our modern times. Read also the testimony of Luis Bara about electricity in Aso de Sobremonte.