Mills in Alto Aragón - harinero, aceitero
Mondot - Viliellas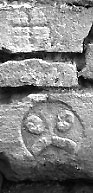 M

ondot
and certainly this mill is not that easily found. From the main road between L'Ainsa and Barbastro turn to Lamata in Mesón de Ligüerre de Cinca. Follow the long narrow road and turn right just before Olsón where Mondot is signposted. Once there turn right into the village and park the car. From the church follow the main dirt road to the graveyard. A trifle further on there is a lesser branch to the left leading slowly down which will bring you to the brink of the canyon more or less at the spot of
pict. 1
. Find your way down, cross the farmland and walk then against the stream until you'll reach the molino which, I think, is known as Molino Viliellas.
Pictures: 31.III.2010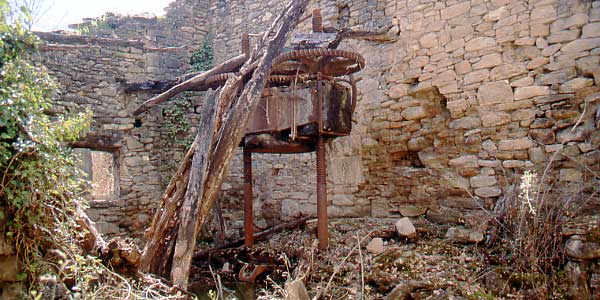 (21) The workplace (a in 7) of the aceitero dominated by the press
W
hen you pass through the door (6, 9) you'll be greeted by a huge press taking a prominent position in the workplace (21). Although there is no label to proof it, this device clearly is of the same type and brand like in
Troncedo
and Betorz: presumably a La Maquinista Terrestre y Maritima.
T
he wooden block (25) is lined with metal. This must be a makeshift solution (22, 23) and a later addition as the plates were obviously recuperated from other purposes in former times. The build —a large wooden block carrying cogwheels of steel— points to the end of the 1850s.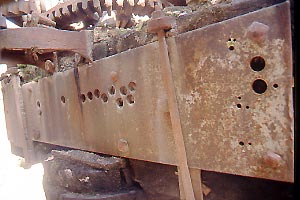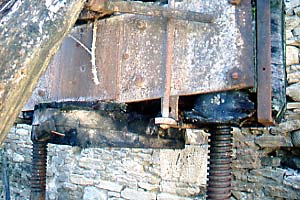 (22-23) Wooden block of the press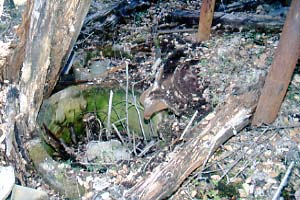 (24) Foot of press with pan & oil container
N
ext to the pan which forms the foot of the press (24) is a receptacle made from stone. No other tools of the trade were found in this room.
The wall behind the press (28) merits a closer look as it features several engravings: mostly signs of the cross, but also a small grid and a truely nice face.
A chimney rises from a corner at the far end (26). Because the extraction process requires hot water a fireplace is essential in an oil mill. There was a well (29) just around the corner in the harinero part of the building.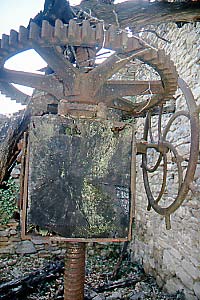 (25)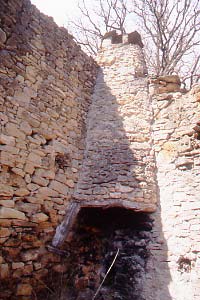 (26) Fireplace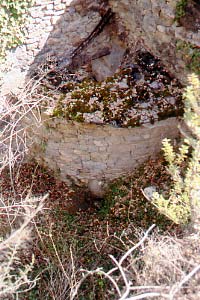 (27) The well - cp4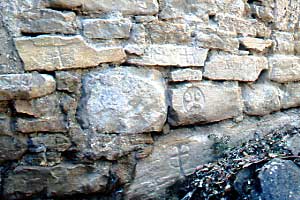 (28) bas-relief on wall behind press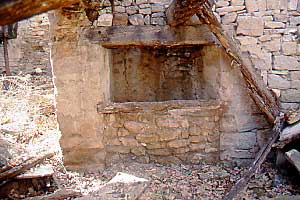 (29) the well - see 27 for outer wall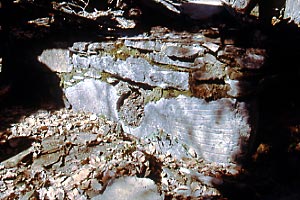 (30) recycled milling stone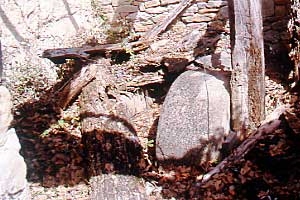 (31) olive crusher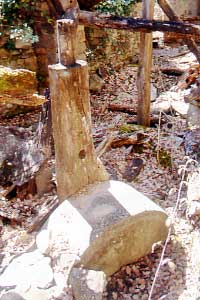 (32) olive crusher
T
here is nothing much left that reminds of the grain mill. Actually the only thing that points to a harinero is the greater part of a milling stone (30) which is used as a support of kind of a bench. Putting this together with the fact that the cárcavo (14) below this room is empty and lies behind a blind saetín leads to the assumption that the business in its last years was run as an aceitero only.
At the far end of the harinero space is reserved for a crushing unit (4r) which is, given the situation of the rest of the site, rather wel preserved (31, 32). The stone, marked 1924, is mounted on a vertical axle which is driven by the wheel in the second cárcavo (15).
Notice the hole (32) which could receive a pole in order to turn the stone by muscle power.