Mills in Alto Aragón - stone quarry
Almunia del Romeral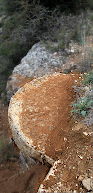 A

lmunia del Romeral
is a small village situated North-East from Huesca city. From Huesca take the main road to Barbastro (N–240) and after a few kms turn left (A–1227) to Loporzano, Bandaliés, and Sipán, then Loscertales. Past Sipán, but before reaching Loscertales, left again to Molinos de Sipán. Drive through Los Molinos, the streets are narrow, where you will cross the river , and continue to the end of the road in La Almunia del Romeral.
Pictures: 06.x.2016

(1) The ridge above La Almunia del Romeral
W
e learned about this site thanks to an article in a newspaper of the region (
†
) where we found the fol­lowing (translated from Spanish):
A separate issue are the mill wheels, which until the mid-19th century were very local, such as those carved in the Molón de San Julián de Banzo ravine or on the ridges above La Almunia del Romeral
(my emphasis).
T
he article comes with a picture of a millstone left behind on the slope above the village. There is sufficient background visible so that a good guess of its position is possible.
We have carefully explored the grounds, but have not been able to discover the millstone. However, earthworks had been carried out at the site and the stone may have been gone since then.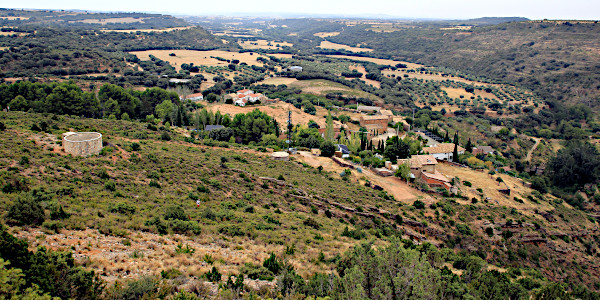 (2) View from the top of the ridge.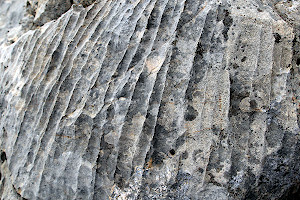 (3)
It is very clear that a quarry was once active here. We see traces of extractions and a lot of stone waste; nothing reminiscent of a millstone, however.
The type of rock (3) is identical to the stones we found in the quarry of Colungo.
†: — 2014 — Las canteras de piedra oscense.
Diario del AltoAragón, 10.viii.2014, p 72–73.