St-Andries (Brugge, Belgium);
viii.1998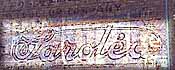 Saroléa
is a Belgian brand of motor cycles. Production started in 1901.
After a merger with the French
Rene-Gillet
Saroléa ceased to exist in the 1960s.
The ad is part of a bigger wall with more brands. (See the mural before any editing)
The first
Mobylette
was presented to the public in 1949 and was an instant success because it was a major improvement in a time when bicycles ruled the roads.
Read more at the Moped wiki (latest check 12.vii.2023).
Notice: It was a French product and the national custom requires the appro­priate colour choice. See f.e. Total and Azur (on the Fuel page) who carry the same colours.
Kinshasa (Zaïre), 1987;
pict. P. Viguier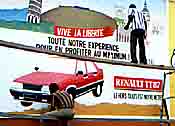 Vive la liberté
Toute notre expérience pour en profiter au maximum!
Renault TT87
Le hors-Taxes est notre ????
Very interesting to notice how european symbols were considered appropriate to support the message.
This wall carries a second advert for Michelin tires. The overview shows how people are busy painting.
Hardivillers (D34 Oise, France);
xi.2000; pict. M. Chartier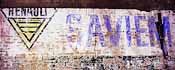 Hazebrouck (France); 16.iv.2001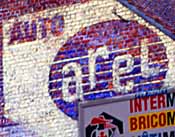 Auto Arel
The word
radio
is probably hidden behind the new advertisement.
Arel stands for Applications Radio-Electriques. Arel and Clarville were both distributors for Radio-France. Arel did the car audio receivers and Clarville was for home appliances. Though some products (like the Solistor which was the first receiver with transistors in France) were sold by both.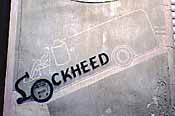 The entire wall says
Freins LOCKHEED
Dépositaire des Usines D. Windelinckx
Toutes les PIÈCES d'Origine LOCKHEED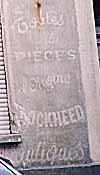 The Loughead brothers Allan and Malcolm pioneered with aircraft during the 1910s. But the Loughead company had to close down in 1921.
Malcolm quit the aviation business and became successful with a hydraulic brake system for motor cars. Malcolm changed his name into Lockheed and baptised his new company the Lockheed Hydraulic Brake Company.
Allan, together with Jack Northrop, got back to airplanes when both created the Lockheed Aircraft Corporation. 'Lockheed' to ride on the fame of the brake company.
Very nice wall, a bit naive, but worth a medal.
Notice the detail in the drawing which explains the hydraulic brakes. The tin contains Special liquid Lockheed N° 5. Could there be any relationship with another famous N° 5?
A short closing word: the typography is horrible and comes close to the Sister Borel advert. Don't tell me that was considered good design back then, was it?