Mills in Alto Aragón
Palo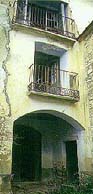 P

alo
is situated just to the east of the Embalse de Mediano. It's probably easiest to reach starting from
L'Ainsa
, driving towards Barbastro and turning left at
Ligüerre de Cinca
where
La Fueva
is also signposted. After a while you'll cross the lake, drive uphill again and then descend towards Tierrantona. Palo will be on your left at about the same height as the branch towards the santuario de Bruís.
Pictures: 08.III.2005, 06.XI.2011, 20.V.2016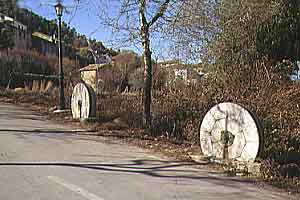 (1) Entrance of Palo village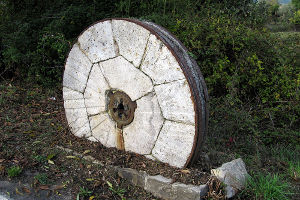 (2) Composite stone ∅ 140 cm
A
lready at the crossroads leading to the village center, you'll find two composite stones with a ∅ of 140 cm (1, 2). A further two are installed at the play­ground at the entrance of the village (3).
The back of the stones (5) carries a label Mercadal y Cebolar - La Ferté — Zaragoza (Read more about La Ferté.)
A
ll the other contraptions which are stacked away in the corner belong to an olive oil business (3, 6): a crushing stone, a hydraulic press (7), a pump (8) and a small engine (9) which was used to power the system. There is also a receptacle from stone (6) which may come from a previous generation of the installa­tion — but it could also have been the base of a grape press.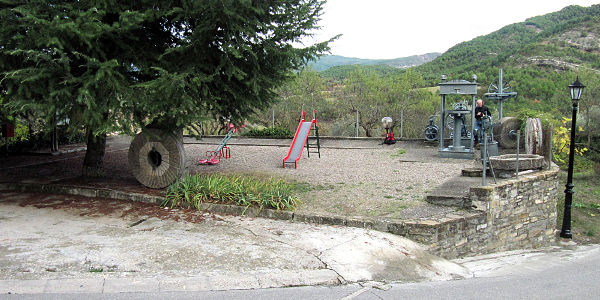 (3) The playground where some mill related stuff is shown — 2011
Everything is carefully painted for a long lasting life, but there is nothing to help and educate an interes­ted visitor. On our latest visit we found the play­ground unkept and overgrown by the tree now more than doubled in size since our visit in 2011 (3).
Other villages (e.g.
Castillazuelo
) have like exhibi­tions of machinery getting rusty in the village center. It is probably all done with the best of inten­tions, but I don't think this is enough to preserve the mills as important remnants of Aragón's industrious past.
It's primordial to keep the stuf where it belongs, in the mill, and preserve the mill with its tools and its surroundings as a whole.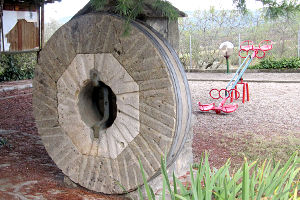 (4)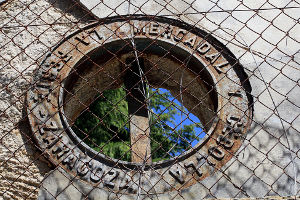 (5) Mercadal y Cebolla — La Ferté - Zaragoza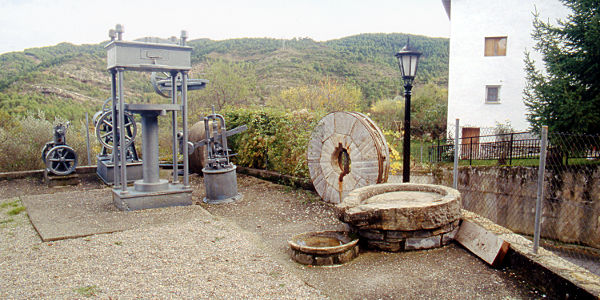 (6) Overview of the exhibition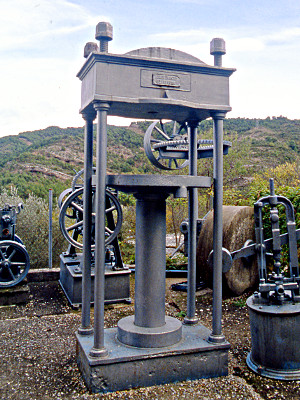 (7) Hydraulic press: Juan Iranzo - Zaragoza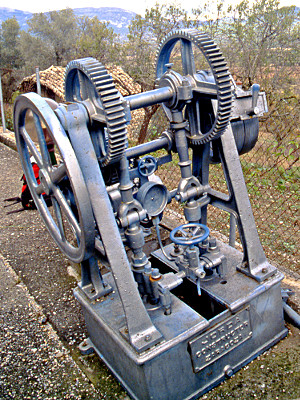 (8) Pump: Jordá constructor - Zaragoza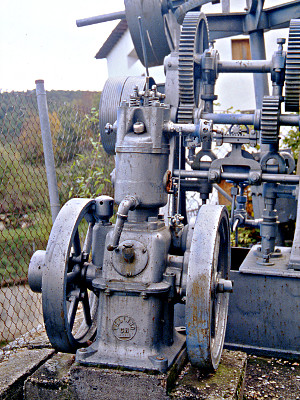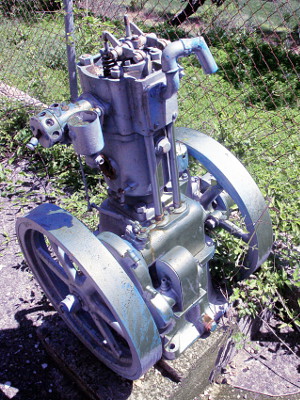 (9 - 10) Motor: Vellino type CR — serial 8540 (not entirely clear)
I
couldn't find anything substantial about any of the brands — Mercadal y Cebolla, Juan Iranzo, Jordá — found at this site and not much more about Vellino.
The Vellino CR is one type of a wide range of statio­nary engines produced by a company named Laboratorio Vellino after its founder Carlos Vellino Roch. He started, in 1901, with small explosion engines after his adventure in electrical cars ended in disaster and bankruptcy.
Carlos Vellino died in March 1934 but the company lived at least long enough to merit a commemora­tive stamp for its 50th year in 1951.
D
uring the first half of the 20th century many advertisements appeared all singing the same tune:
Motores Vellino
came in many types, were cheap and reliable, and spare parts were always available. Main point in almost all adverts was that the engines started without any difficulty and used only half the amount of fuel compared with other brands.
A Vellino type BR can be found in the oil mill of Banastón, where I will go into some more detail about Vellino.