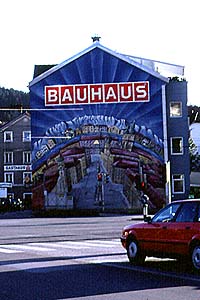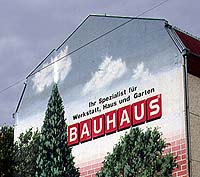 Ihr Spezialist für
Werkstatt, Haus und Garten
BAUHAUS


or


Your specialist for
workplace, house and garden.
Painting roadside advertisements still seems common practice in Austria: several new panels.

Austrian painted advertisements show amazing reality.
The first panel (left) shows Innsbruck and the Alps dominating the city. The trees (right) in front of the wall are part of the painting. They are so real, that I'm wondering if the artist made arrangements for a wintry version.

Visit the NEFF wall for more fine artwork.