Most important with maintenance products is to minimize on the burden of cleaning. Your home full of shining furniture is just a whistle away with Ça-va-seul. Cleaning with Hoover appliances goes so fast, the brand and free time are almost synonymous.
Speed and convenience is one thing, but we want the place spotless after the mopping. Vigor answers this requirement: it will dash away every blot (no '+', 'extra' nor 'vitamins' needed).
Aix en Provence (France); VIII.1999;
pict. N. Mikaïloff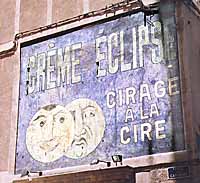 Crème éclipse - Cirage à la Cire
or
Eclipse Cream - polisher with beeswax
This wall carries two brands: Crème Eclipse and Lumière.
You'll find another extremely well done face at the Vermouth page.
Pellicule Lumière is in the Photography section
Ça-va-seul
was born in Diksmuide (Belgium) when experi­mented with cleaning products and shoe wax. That was in the 1880s. In the 1920's production moved to Vilvoorde (near Brussels) and a second plant some years later in the North of France. After several take-overs the brand eventually became Reckitt Benckiser's in 2001 and production moved to France.
Saint Geniès (Dordogne, France);
VIII.2000; pict. M. Chartier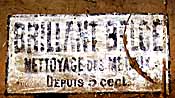 Brillant Belge
Nettoyage des métaux
Depuis 5 cent.
or
Brillant Belge
metal cleaner
prices starting at 5 centimes.
Les Tavernes (N14, Val d'Oise, France);
IV.2000; pict. M. Chartier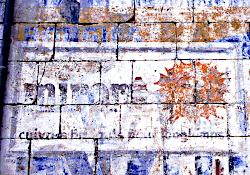 Miror
cuivres brillants pour longtemps
or
Miror
long lasting copper cleaner.
Notice the tin with the product and a shiny sun with face. The brand exists since 1911.
Find the complete wall which features also an almost unrecognizable bougies Eyquem and a Vichy St Yorre advert.