Narbonne (France);
VIII.20008; pict. T. Taal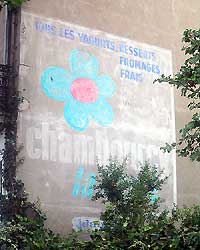 Tous les yaourts, desserts, fromages frais, ....
Chambourcy
menent à
la santé
It was in 1934 that three men named
A
boucaya,
L
apeyre and
B
aillivet became asociates to form a dairy-farm under the name
ALB
. One of their products were the so called petit suisses (invented in 1850 in French Normandy by an employee from a local diary-farm who was born in Switzerland)). Petit suisse fromage is meant as a dessert cheese. The size of one serving in those days was twice today's standard size. It was Mr. Gervais who started industrial production of what was later called Petits Gervais.
After the second World War, ALB started competition against the popular Petits Gervais with their own petits Chambourcy. This name was choosen because the first of the founders had a property in Chambourcy (Paris region). In 1961 the brothers Benoit became the new owners of the company which was renamed Chambourcy in 1962. It became part of the large Nestlé family in 1978. The name was blanked out in 1996.
Chambourcy brand was brought back to life in 1998 when three investors bought it back from Nestlé. From now on it would focus on organic products (dairy and other).
La Revue des Marques published the Saga Nestlé (French; X.2000) with some paragraphs about Chambourcy.